App publishers will be able to use AI for marketing in 2023 to raise their apps' app store rankings and conversion rates, develop powerful ad campaigns, and ultimately increase downloads and income. This post will discuss the numerous ways that AI may improve ASO, UA, monetization, and retention and will provide you with real-world examples of how marketers can use AI.
The use of AI and its many applications will play a significant role in app marketing in the future. Many facets of app marketing, from user acquisition to retention and engagement techniques, have already included AI. App marketers will need to adapt and innovate as technology develops further and new AI-driven solutions appear in order to stay ahead in a fiercely competitive market.
The capacity of AI to analyze massive volumes of data and offer insightful information about user behavior is one of the technology's primary advantages in app marketing. AI-powered marketing solutions can help app marketers optimize their user acquisition and retention tactics by analyzing user data to find patterns and trends.
In this blog, we will show examples of AI in marketing which could also help you:
1. Improve CVR on your app store page with an AI algorithm for generating creatives
Visual assets are important factors that affect how many people visit your pages and how many of them download your apps. Designers should produce a sizable number of screenshots, app page icons, and banners for advertising efforts. Today's AI algorithms are able to provide a huge variety of art assets for app icons, images, and in-app event sections. While proving various app marketing theories, tools like Runway or Canva AI Image Generator can help to lighten the workload of development and design teams. AI can also provide personalized recommendations based on individual user preferences, and predictive analytics can help app developers and marketers anticipate future trends in user behavior. So, the use of AI tools in design can save designers time and money by automating repetitive tasks and streamlining workflows.
2. Speed up and improve keyword research for ASO
One of the essential components of app store optimization is keyword research and optimization. AI algorithms are frequently used to do research and offer insights about keyword difficulty, search volume, and competitiveness as part of ASO keyword plan optimization.
An OpenAI language model called ChatGPT can produce natural language responses to user inquiries. ChatGPT may produce keyword suggestions for ASO keyword research based on user queries regarding a certain app or category.
ChatGPT can offer a list of associated terms that are pertinent to the app or category by entering a seed keyword.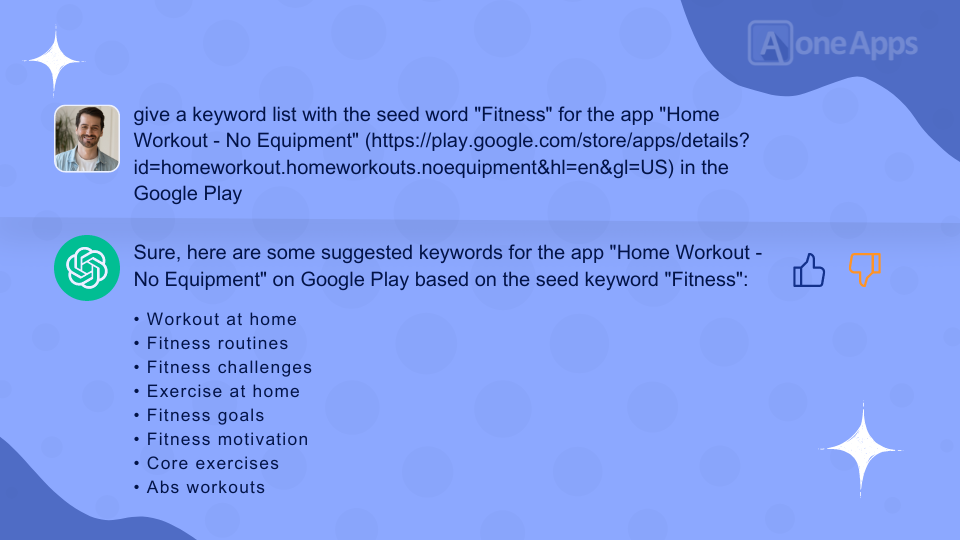 The creation of metadata for your app might be sped up by AI techniques by recommending other keyword combinations. They don't have access to current information on app store keyword popularity, though. The best way to assure effective ASO is to combine AI technologies with ASO platforms.
3. Improve your user acquisition experience with AI-powered solutions
Artificial intelligence can help mobile advertisers increase the effectiveness of the monetization of their mobile adverts. UA managers can outsource competition analysis, search term research, keyword testing, and automate daily bid management by using AI-designed algorithms.
With an AI-driven technology stack for extensive competition analysis, Splitmetrics gives Apple Search Ads marketers insights and sage suggestions on keywords and pricing.
Mobile app marketing solutions are useful for an omnichannel ad promotion strategy since they can assess campaign performance across various ad channels with the use of AI algorithms. In this sense, AI tools can be quite beneficial for tracking the effectiveness of your ads, choosing the right keywords for your advertising campaigns, or finding the most relevant influencers and engaged consumers for a fruitful UGC campaign.
4. Improve app monetization and in-app purchases with smart algorithms
For the first time, consumer spending on apps and games has fallen, with revenues falling by 3% to $129 billion in 2022. To boost profitability and ROI, app marketers and growth specialists should constantly look for methods to improve their app monetization approach.
To uncover the most effective and efficient ways to make money from apps, AI algorithms may analyze the effectiveness of current app monetization models, pointing out their flaws, compiling best practices, and evaluating various in-app monetization concepts.
The machine learning analytics platform from Oolo optimizes your setup, maximizes ARPDAU with complete data transparency, and alerts you to any unusual data combinations.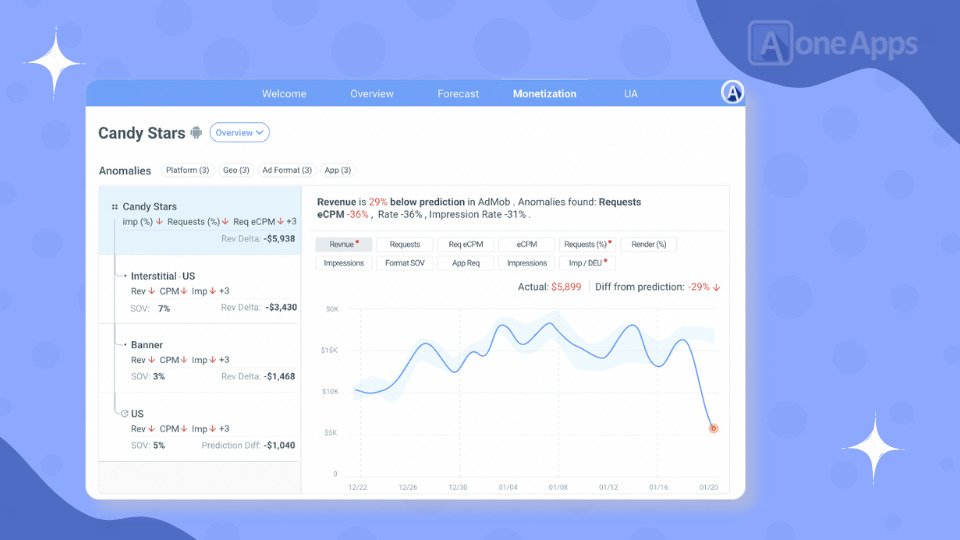 Additionally, AI for marketers can examine user behavior to recommend to customers the best in-app purchase alternatives, upsells, and subscription plans based on their previous actions and behavior. This enables app developers to give users a more tailored and interesting experience, increasing in-app income.
AI algorithms may also create paywalls, which are a successful method of generating revenue for mobile apps. It is possible to create paywalls that persuade users to subscribe or make in-app purchases. A/B testing allows AI algorithms to execute prelaunch tests, validate app subscription ideas, and assist app developers and marketers in creating paywall designs and choosing the best paywall type (hard, metered, freemium, hybrid, or others).
5. Increase app retention and decrease churn with the improved user experience of apps
One of the most crucial yet difficult responsibilities for app publishers is keeping users' interest and engagement and preventing churn. Fortunately, AI algorithms can contribute to a better user experience over the course of the user's lifecycle.
By experimenting with various methods for onboarding users into their apps, app publishers may tailor their strategy and deliverables for each app user category. By re-engaging users after installation, personalized in-app notifications that give incentives and boost purchases can be made by app developers using neuro-linguistic programming. This type of notification customization can significantly increase app engagement and increase revenue. An AI-powered platform called Phrasee creates personalized and compelling texts for marketing and advertising campaigns, including in-app notifications, using NLP algorithms.
In addition, app publishers are incorporating AI technologies into app support, offering 24/7 customer assistance with chatbots and virtual assistants, enhancing the user experience, and gathering information about user behavior, product issues, and use cases. For instance, AI algorithms can determine the content kinds, such as videos, photos, or quizzes, that users interact with most frequently and then offer UGC campaign ideas based on these insights.
6. Key Takeaways on Using AI for app marketing
Publishers of mobile apps and games are actively integrating AI-driven solutions for tactical and strategic duties due to the intense competition in the mobile app and game market. To assist apps outperform the competition, AI algorithms can be extensively used in ASO, UA, retention, and monetization.
The following are just a few examples of how marketers can use AI to expand their mobile app businesses:
intelligent data analysis and research
tracking user behavior
hypothesis testing
sophisticated analytics recommendations and forecasts based on trends found
proving monetization tactics
creating content and keywords, customizing it, and enhancing user experience
Conclusion
There's no denying that more and more artificial intelligence will be used in mobile devices in the future. Companies are utilizing AI more frequently to create predictions and personalize experiences as mobile users have access to more data. Additionally, it is expected that AI will be combined with other technologies, including augmented reality (AR) and virtual reality (VR), to produce even more immersive and fascinating mobile experiences.